Help support our efforts to keep the public informed about issues important to conservation and sportsmen and women.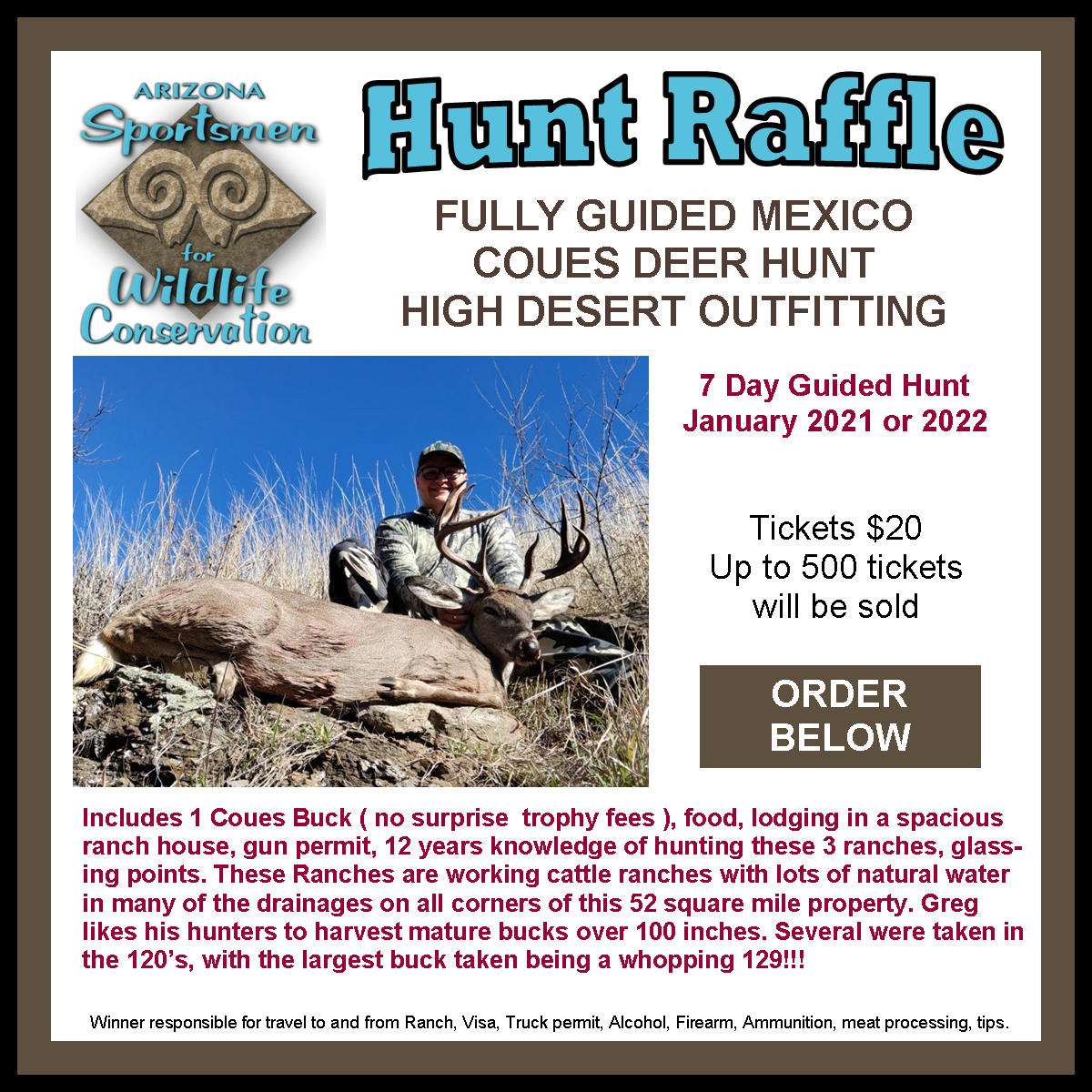 DIY Sonora Mexico Coues Deer Hunt
with Greg Koons owner of High Desert Outfitting
7 Days of guided hunting with a day of travel to and from the ranches.
Dates January 2021 or 2022.
Enter Mexico thru Nogales toward Kino de Magdalena
Included:
1 Coues Buck ( no surprise trophy fees )
guide services
prepared food
lodging in a spacious ranch house with 3 full bathrooms and showers
gun permit
12 years knowledge of hunting these 3 ranches, predators, glassing points.
These Ranches are working cattle ranches with lots of natural water in many of the drainages on all corners of this 52 square mile property. Greg likes his hunters to harvest mature bucks over 100 inches with several in the 120s being taken, with the largest buck taken being a whopping 129!!!
Not Included: Travel to and from Ranch, Visa, Truck permit, Alcohol, Firearm, Ammunition, meat processing, tips.
A non-hunting guest can be added for $500. Additional hunters may be added. Contact Greg Koons at 602-540-9446 or sheephnts@aol.com to check availability.
Tickets are $20 each.
Online Raffle Winners Circle
June 2020 NM Antelope Hunt – John Worthington, Wheatland, WY
April 2020 Kansas Turkey Hunt – Daniel Kells, Phoenix, AZ
January 2020 Zeiss Victory RF Rangefinding Bino – Nick Van De Veire, Chandler, AZ
October 2019 Swarovski EL Range – Andy Treharne, VA
July 2019 Stoeger Condor Shotgun – Kristin Whitehead, Kingman
December 2018 Vortex Fury Bino – Jon Lindsay, Wittman
July 2018 Midway Rifle – Anthony Hanna, Tucson
March 2018 Vortex Viper HD Bino – Paul Martinez, Mesa
February 2018 Swarovksi Z5 Rifle Scope – Daryl Hall, Gilbert
December 2017 MK4 Rifle – Ron Hale, Tucson
October 2017 Weatherby Rifle – William Kiefer, Glendale
June 2017 Weatherby Creedmore Rifle – Matt Jeffs, Show Low
May 2017 Swarovski Spotting Scope – Jackson Anderson, Prescott
April 2017 eXplore Rifle Scope – John House, Mesa
March 2017 Pick A Pack – James Worley, Peoria
January 2017 Winchester Rifle – Fred Carr of Glendale
November 2016 Radio Raffle – John Vassel of Queen Creek
October 2016 Vortex Razor Spotting Scope – Curt Parsons, Gilbert
April 2016 Radio Raffle – Robert Anderson, Prescott
ADBSS Gould's Hunt Raffle benefiting AZSFWC – Mike Petraska of Chester, UT
January/February 2016 Custom Spinning Rod Raffle – Art Boswell of Tucson
October 2015 Swarovski EL Range Raffle – Will Garrison of Peoria
August 2015 Radio Raffle – Tim Harden of Phoenix
---
Raffle Ticket Purchase Policy – Must be 21 to purchase. Limited number of tickets will be sold per raffle as stated above. Following the close of the raffle, an electronic random drawing will take place and the winners will be announced on this website and through our enews distribution. You will not receive tickets in the mail – this raffle is being conducted electronically. ALL SALES ARE FINAL – NO REFUNDS WILL BE ISSUED.