Help support our efforts to keep the public informed about issues important to conservation and sportsmen and women.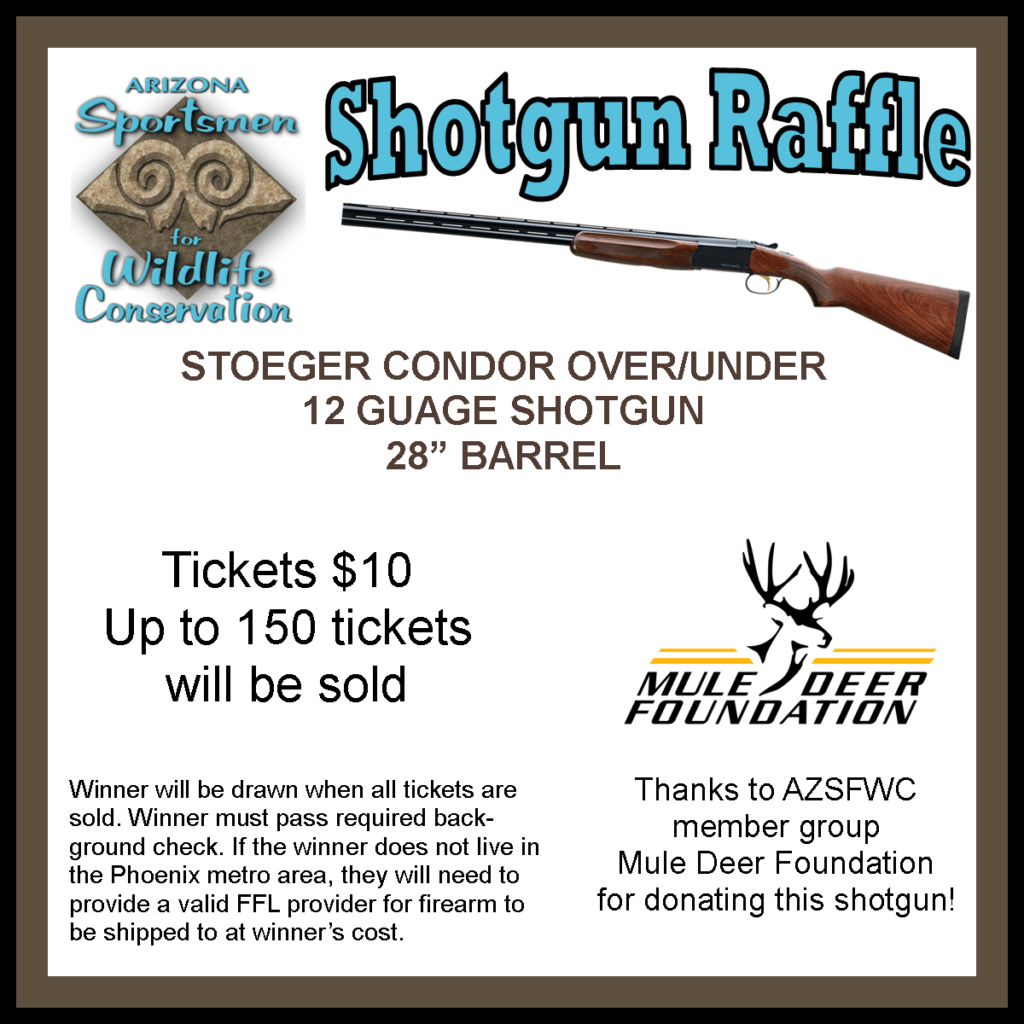 SOLD OUT. Winner will be announced soon.
---
Online Raffle Winners Circle
December 2018 Vortex Fury Bino – Jon Lindsay, Wittman
July 2018 Midway Rifle – Anthony Hanna, Tucson
February 2018 Swarovksi Z5 Rifle Scope – Daryl Hall, Gilbert
December 2017 MK4 Rifle – Ron Hale, Tucson
October 2017 Weatherby Rifle – William Kiefer, Glendale
June 2017 Weatherby Creedmore Rifle – Matt Jeffs, Show Low
May 2017 Swarovski Spotting Scope – Jackson Anderson, Prescott
April 2017 eXplore Rifle Scope – John House, Mesa
March 2017 Pick A Pack – James Worley, Peoria
January 2017 Winchester Rifle – Fred Carr of Glendale
November 2016 Radio Raffle – John Vassel of Queen Creek
October 2016 Vortex Razor Spotting Scope – Curt Parsons, Gilbert
April 2016 Radio Raffle – Robert Anderson, Prescott
ADBSS Gould's Hunt Raffle benefiting AZSFWC – Mike Petraska of Chester, UT
January/February 2016 Custom Spinning Rod Raffle – Art Boswell of Tucson
October 2015 Swarovski EL Range Raffle – Will Garrison of Peoria
August 2015 Radio Raffle – Tim Harden of Phoenix
---
Raffle Ticket Purchase Policy – Must be 21 to purchase. Limited number of tickets will be sold per raffle as stated above. Following the close of the raffle, an electronic random drawing will take place and the winners will be announced on this website and through our enews distribution. You will not receive tickets in the mail – this raffle is being conducted electronically. ALL SALES ARE FINAL – NO REFUNDS WILL BE ISSUED.