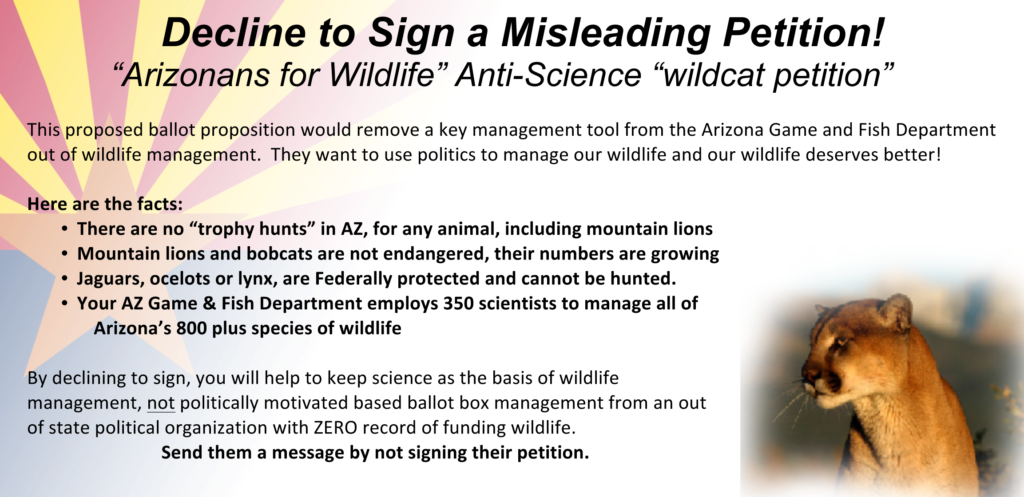 The Humane Society of the United States (HSUS) under the guise of Arizonans for Wildlife has filed an application with the AZ Secretary of State to begin a ballot initiative that would ban the hunting and trapping of wild cats (bobcats, mountain lions, ocelots, jaguars and Canadian lynx)
We of course are monitoring this and will continue to provide information here. Click on the links below.
The Decline to Sign image on this page is available in print. Please contact us at info@azsfwc.org if you are interested in receiving a supply to pass out to members of the public.
Humane Watch is a watchdog group monitoring and reporting on the activities of the Humane Society of the United States (HSUS)
Retired AZGF Game Warden Kurt Bahti "A Wolf in Sheep's Clothing"
Recent article in Predator Extreme magazine
AZSFWC Executive Director Podcast on Jay Scott Outdoors
AZSFWC Executive Director Podcast on America Outdoors Radio
"Do You Love Wildlife" and other HSUS tactics/deception
HSUS and Social Media Civility